Two boys face off in the classroom just before the bell rings. One perceives he has suffered a slight from the other one. A chair was moved. A new white shoe was stepped upon. A word was said in jest, but is now calling into question a man's dignity. The eyes squint and the lips grow tight as he utters the word with two g's in the middle. It is a word that devastates character and makes the rest of the class point and howl in laughter.
"Faggot!"
As an educator, what is your response? Do you start to take attendance and ask the class to go to their seats? Do you glibly utter, "Save the drama for your mama," in hopes of diffusing the situation? Do you drop your eyes, or roll them, because this is just one more thing you do not want to deal with today? If you choose to ignore the situation, you may think that you are in the majority. You are not.
Here is a headline for the newspapers: Educators Are Doing Something Right. Friday, October the 11th was the 25th anniversary of National Coming Out Day, and many LGBTQ students and their allies and families feel more at ease about this because of the actions of educators across the country.
The February 5, 2013 issue of Education Week published the results of an article from Pediatrics showing that there was a significant drop in bullying of LGBTQ youth . . . in Great Britain.
There is good news for the students impacted in the United States as well. Efforts by the Obama administration to stress open dialogues about homophobia and the insistence to public school administrators that they may not squelch activities by Gay Straight Alliances has greatly reduced the use of anti-LGBTQ language at school. This is the result of lawsuits brought against school districts in Minnesota and California because they failed to provide environments that were respectful to students who were gay.
The school experience for LGBTQ students has not changed completely. In a 2009 survey that included bullying statistics, students reported that real or perceived sexual orientation was the second most common reason for being bullied. The first was physical appearance. We need to remember that gay students are not the only ones who are recipients of homophobic slurs. Students who participate in activities outside of gender "norms," such as a girl who participates in football or a boy who takes dance classes, can be bullied in person or online simply for pursuing the activities that they are passionate about.
As a teacher for several decades and a member of the Southern Poverty Law Center and Human Rights Campaign for most of those years, I have seen many helpful programs available to teachers. Most of these are free of charge and can give superior guidance to teachers who are searching for the best words to say. The HRC program called "Welcoming Schools" has recommendations that include age appropriate books and suggestions for discussions about gender stereotypes and other activities.
The Southern Poverty Law Center has supported the Teaching Tolerance Program for a very long time. While they are known for their excellent documentaries about the Civil Rights Movement, they also have resources for teachers about bullying that are endorsed by the NEA.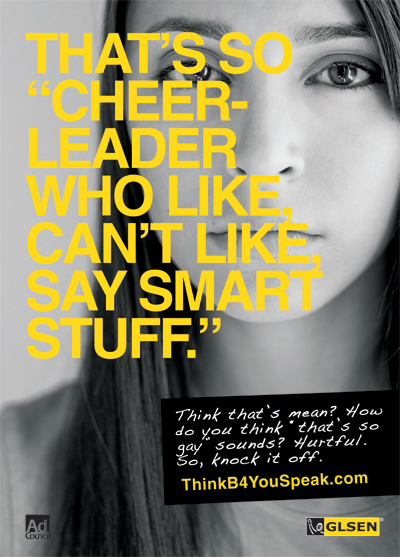 When a student uses a word like "fag" or the phrase "That is gay" teachers need to respond. I simply tell students that there may be classmates who have family members who are gay. Their words are hurtful to them as well as students who may be gay. Often times a student will come into the conversation with something like, "My aunt is a lesbian and she is sweet and I love her." Of course, the presence of a GSA is always an important resource for teachers and students who wish to engage in positive and meaningful dialogue. Groups such as the Gay, Lesbian & Straight Education Network can offer the tools for students to start these conversations.
By Linda Kennedy, Columbus Education Association