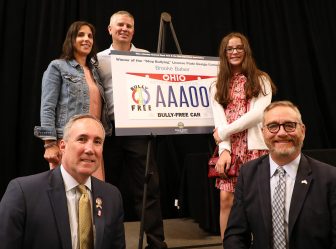 An 11 year-old Cleveland-area girl who has been dancing since she could walk, who plays catcher on her softball team and who just closed out the fifth grade with straight A's is stepping into a statewide spotlight. But it's thanks to another of her passions: art.
Ohio Attorney General Dave Yost and the Ohio Education Association announced June 18, 2019, that the design selected for a new "Stop Bullying" Ohio license plate is one created by Brooke Balser, a student at Independence Middle School in Independence.
"Bullies gain power when the people around them look the other way, stay silent or ignore the problem," Yost said. "Each time we see Brooke's colorful 'Bully-Free Car' design on an Ohio license plate, we'll be reminded to treat others with respect and to stand up against bullying behaviors."
Yost and the OEA announced a contest at the start of May to select the license plate design.
Ohio schoolchildren enrolled in kindergarten through fifth grade during the recently-concluded school year were invited to send in entries. In all, 171 entries were received.
An OEA committee judged the submissions on creativity, reflection of the "stop bullying" theme, and originality of design.
State Rep. Dave Greenspan (R-Westlake) was a primary sponsor of legislation introduced in 2018 to create the "Stop Bullying" plates. A measure implementing that idea became law in March 2019.
Contributions collected when vehicle owners order the plates will fund grants for nonprofit organizations, schools and school districts to provide bullying prevention training programs or similar educational opportunities.