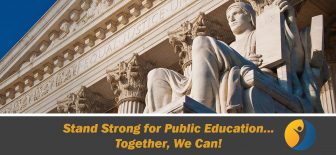 Janus v. AFSCME?
Through our union, we advocate for what our students deserve and for what educators need to do our jobs well. However, the U.S. Supreme Court will likely issue a decision in the case this week that could threaten our collective voice. Janus v. AFSCME is a politically motivated attack to use the U.S. Supreme Court to divide and conquer our union by eliminating the fair share fee.
Why Does It Matter
 Janus v. AFSCME is part of a concerted effort to weaken our ability to advocate for our students and members. Negotiating collectively improves the lives of all working people—even those who are not union members themselves—because strong unions set pay and benefit standards that non-union employers follow. This means stronger communities. At its core, the Janus case is about working people's freedom to make a better life for themselves, their families, and their communities.
What Are We Doing About It?
Together, we are continuing the fight for strong public schools by strengthening our locals and demonstrating value and relevance to our members. | #OEAstrong
Download the Strong OEA = Strong Public Schools fact card for additional details about Janus v. AFSCME.

Oh Yes, We're Social — Join the Conversation!

Updated June 4, 2018