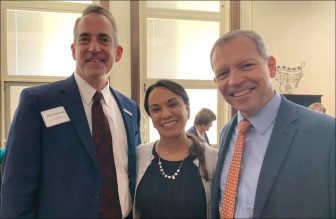 State Superintendent of Public Instruction Paolo DeMaria surprised students and staff at Norwood Middle School this week by announcing that Leila Kubesch was selected as Ohio's 2020 teacher of the year.
Kubesch teaches Spanish and English as a second language at Norwood Middle School.
School officials also said Kubesch encourages students to participate in service learning projects to build confidence and grow their desire to learn. For example, students have worked for a local cable television station to create a talk show involving community members who discuss various topics with the students.
Kubesch and her students were awarded the Ohio Education Association Media Award for Public Service for that project. They also received a grant to expand their studio.
During the 2017-18 school year, Kubesch secured a grant for a performing arts project. They created a display, laminating their dreams and hanging them on burlap sacks, with cutouts of hands forming a border. The display stretched more than 100 feet, and a special exhibit featuring the project opened at the National Underground Railroad Freedom Center in Downtown Cincinnati. A poster by the exhibit explained how burlap was used in North Africa – as clothing, rugs and sacks.
Click here to learn more about Kubesch and the Ohio Teacher of the Year Program.