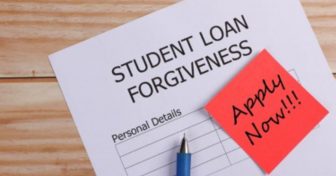 Please review the life-changing opportunity below regarding the limited Public Service Loan Forgiveness (PSFL) waiver. The Biden administration has created ways to assist student loan borrowers with eliminating debt and we want to ensure that all public servants are aware of this new benefit. The "limited PSLF waiver" refers to the time-limited changes to Public Service Loan Forgiveness (PSLF) Program rules that allow borrowers to receive credit for past periods of repayment that would otherwise not qualify for PSLF. This opportunity ends on Oct. 31, 2022.
Public Service Loan Forgiveness
The Public Service Loan Forgiveness (PSLF) program, created in 2007, forgives the remaining balance on federal loans after a borrower makes 120 qualifying monthly payments while working for a qualifying employer (non-profits, the military, or federal, state, Tribal, or local government). The requirements were difficult to navigate therefore, last October, President Biden announced the "Limited PSLF" waiver to eliminate the red tape and expand the qualifications under the previous PSLF rules. Under the limited PSLF, there are no income limits and no cap on the amount that can be forgiven but these rules expire on October 31, 2022.
To take advantage of these temporary rules, you must apply by Monday, October 31, 2022. You cannot wait until the last minute though because you will need to submit verification of your employment history when you apply.
President Biden's Debt Forgiveness Actions
On August 24, President Biden announced a set of additional actions that will provide student debt relief to approximately forty-three million borrowers.
Here are the highlights:
The Department of Education will provide up to $20,000 in debt cancellation to Pell Grant recipients with loans held by the Department of Education, and up to $10,000 in debt cancellation to non-Pell Grant recipients. Borrowers are eligible for this relief if their individual income is less than $125,000 ($250,000 for married couples).
The Department of Education is proposing a new income-driven repayment plan that protects more low-income borrowers from making any payments and caps monthly payments for undergraduate loans at 5% of a borrower's discretionary income—half of the rate that borrowers must pay now under most existing plans.
To ensure a smooth transition to repayment and prevent unnecessary defaults, the pause on federal student loan repayment will be extended one final time through December 31, 2022. Borrowers should expect to resume payment in January 2023.
You can find more information on President Biden's actions here.
How to Get Your Loans Forgiven
If you are looking for information on eligibility for debt forgiveness, we recommend you visit : Student Debt Cancellation, PSLF & More: What Educators Need to Know | NEA
Act now to make sure you do not miss the October 31 deadline for the PSLF temporary rules.
If you are an OEA member, we recommend you register for one of our Zoom "Student Loan Forgiveness Workshops." No registration needed; just join any day and time most convenient – simply use the ZOOM link to join any (or all) of the ZOOM sessions below:
All ZOOM events have ended