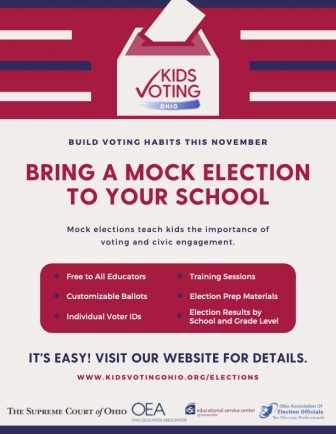 Help build voting habits by bringing a mock election to your school or classroom.
The November election is quickly approaching and now is the time to plan a mock election for your school. Kids Voting Ohio has created a simple system that is free to educators and gives students a chance to learn the importance of voting as well civic involvement in an engaging and fun way. The Kids Voting Ohio Mock Election curriculum comes with all the materials necessary to build a successful mock election, including lesson plans and customizable ballots.
Learn more or sign-up by visiting https://www.kidsvotingohio.org/elections
Kids Voting Ohio is a free nonpartisan voter and civics education program for Ohio students grades 3-12. Kids Voting Ohio offers completely free programs to schools and educators including mock elections, social studies standards-aligned curriculum, student scholarships, teacher training sessions, opportunities for student events and experiences, educator and voter resources.