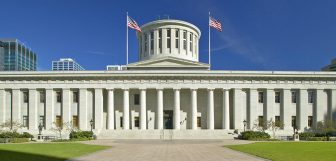 When it comes to public education, OEA members are the experts, and they have a right and a need to be heard. That's what OEA's political and lobbying programs are all about, but those programs are much stronger when you get involved.
OEA Government Relations has developed and will maintain a legislative scorecard for each member of the Ohio General Assembly. Political action is one of the most important ways members can affect the future for students and school employees. OEA's political efforts have always been driven by members, for members and students, and for the improvement of public education.
The legislative scorecard tracks floor votes on bills that OEA has taken a position (support/oppose) as well as notified OEA voting members of the same. Additionally, co-sponsors of bills that OEA has intense interest (either in favor or against) are also tracked.
To use the scorecard, select the "Legislative Scorecard" in the dropdown under the "Get Involved" menu or click HERE.

Oh Yes, We're Social — Join the Conversation!

Updated June 4, 2018