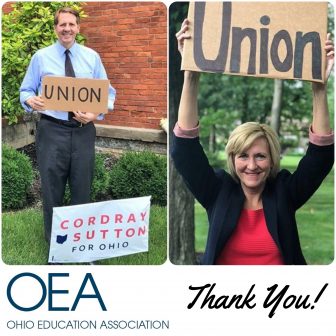 (September 12, 2018—Columbus) – Today, Richard Cordray announced his plan, Supporting Ohio's Students. The plan was applauded by Becky Higgins, president of the Ohio Education Association.
"We believe Rich Cordray has a student-centered agenda that makes public education a top priority. He has an impressive understanding of the key education issues Ohio's next Governor will face — from the need to invest in support services, ending the reliance on high-stakes, standardized tests, to reining in poorly performing charter schools."
"We believe Richard Cordray has the leadership skills and commitment to students needed to address the many challenges our state will face in the years ahead," said Higgins. "He is the right choice for Ohio's next Governor."
Related: Campaign 2018 — OEA Endorsed Candidates


The Ohio Education Association represents 125,000 teachers, faculty members and support professionals in Ohio's public schools, colleges and universities.