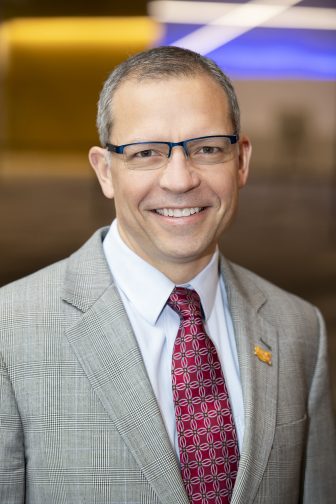 Our Union Helps Us Make Our Students' Lives Better And Our Communities Stronger
I can't begin to tell you how much of an honor it is to have the opportunity to serve as your president.
OEA is an incredible organization for two fundamental reasons: who we are, and why we're here. We have caring, committed, qualified educators in all 88 of Ohio's counties performing in a wide variety of roles who are united in a single cause—to ensure that every single one of our students is provided a quality public education that inspires their natural curiosity, imagination and desire to learn.
Driven by the desire to foster the critical thinking, problem-solving and decision-making skills my students needed to become effective citizens in our democracy, I became a high school social studies teacher 28 years ago. I didn't go into education to help kids pass tests, but to create lifelong learners.
I wanted to make a difference, and I know you do too. That's our purpose. That's our mission.
That's why I believe in you and your power to change lives and shape the future. My desire to make a difference naturally led to my active involvement in my local union.
I knew even before my first day of teaching American history at Tolles Technical Center in Plain City I would need the support of my colleagues if I had any hope of success.
That's why I proudly joined the 45-member strong Tolles Education Association and soon found myself attending Labor- Management Committee meetings and advocating at the bargaining table.
As I continued my career in Worthington and through nearly three decades of activism at all levels of this organization, I have learned that it is only through our union that members are given the support and relationships to necessary to nurture our work with students. It is only through our union that we have the protection and advocacy needed to do our jobs without having to look over our shoulders. And it is only through our union that we are able to harness our collective influence and power to protect public education and improve the lives of our fellow educators and the students we serve.
"I wanted to make a difference, and I know you do too. That's our purpose. That's our mission."
Many colleagues have supported and encouraged me throughout my union journey.
Wendy Nichols, my teaching mentor at Tolles, first invited me to belong to the association and provided me with opportunities to get involved in my local. Kathy Broom, who had been fired early in her marriage and teaching career simply for being pregnant and used the power of her union to successfully win her job back, helped me understand the power of collective advocacy. Suzanne Kaszar, my first OEA Labor Relations Consultant, taught me about bargaining and connected
me to programs to develop my leadership skills.
So many others have made a difference for me because they recognized my leadership potential and provided opportunities for me to play an active role in servingmy fellow members. It began with a simple invitation to belong to a movement that was larger than myself.
If you're new to your role as an educator or education support professional, or if you have been in the profession for a while but have not yet become a member, I invite you to belong to the OEA and to tap into the support, protection and power your union has to offer.
If you're returning as a member, I encourage you to be actively involved. Consider following the example Wendy provided to me and invite at least one colleague to join you and feel included. We're all in this together.
I'm inspired by you and all that you do every day to make our students' lives better and our communities stronger. You have challenged, nurtured and supported me throughout my union journey, and I look forward to continuing our journey together.
Sincerely,

Scott W. DiMauro, President
Ohio Education Association