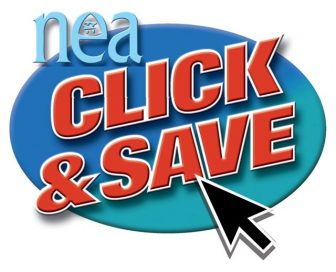 NEA Click & Save, the online discount buying service for NEA
members, highlights select retailers and merchants each month. Check out these featured "Buy-lights" for September:
Dell: Get employee pricing on Dell products
New Balance: Save 15%
Brooks Brothers: Save 15%
Join the 202,000 NEA members already registered for NEA Click & Save.  Go to www.neamb.com/clickandsave today!
* * * * *
BACK-TO-SCHOOL CHECKLIST:
Buy school supplies
Set up classroom
BUY CAR!
The NEA Auto Purchase Advantage Program saves members thousands of dollars on new and used vehicles with a no-hassle car-buying policy that guarantees low upfront pricing in writing! Not only that, but during the back-to-school period, many manufacturers offer additional incentives so dealers can make room for an influx of new models. Did you know NEA members save an average of $4,300 on their new car purchases? Get the details at www.neamb.comunder the Everyday Living tab. Look under "Discounts" for NEA Auto Purchase Advantage!
* * * * *
SAVE $20 ON A FOUR-DAY VEHICLE RENTAL FROM ALAMO!
NEA Members already receive preferred pricing when they rent from Alamo, but this deal is even sweeter! Reserve a car, minivan or SUV in the U.S., Latin America or Caribbean for at least four days with a Saturday overnight keep and get an additional $20 off.  It's never too early to make your Thanksgiving and holiday plans. Visit www.neamb.comand click on the Travel & Leisure tab.  You'll find Alamo under the "Discounts" section. When you make your reservation, be sure to request Contract ID#: 7014162 and Coupon Code: AD7929SDN. Happy travels!
* * * * *
SAVE UP TO 50% AND GET FREE SHIPPING WITH SMILEMAKERS!
Create the coolest classroom while minimizing out-of-pocket expenditures! From now through December 31, 2011, SmileMakers offers you free shipping on all orders (no minimum) and up to 50% off classroom décor, student rewards and more! Check out the Professional Resources tab at www.neamb.com and look under "Discounts."
* * * * *
SAVE $150 ON ALL WORLD WIDE COUNTRY TOURS VACATIONS!
With exciting international and domestic itineraries featuring behind-the-scenes excursions, local-only favorite spots, comfy accommodations, and mouth-watering meals, you can't go wrong traveling with World Wide Country Tours. Plus, NEA members save $150.00 per person on each trip—and that includes the family and friends you bring along with you!
To see the complete tour lineup, visit www.neamb.comand find WWCT under the Travel and Leisure tab.  Then just pick your trip, pack your bags and enjoy your journey!