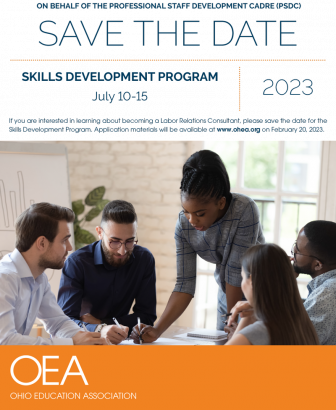 The purpose of the LRC Skills Development Program is to provide interested members and Associate staff with an overview of the skills critical to being successful in the role of an OEA Labor Relations Consultant (LRC). The program includes an intensive schedule that utilizes in-person and virtual instruction components.
Upon completion of the program, participants will have a deeper understanding of the core competencies necessary to be successful in the role of a Labor Relations Consultant. The core competency areas are Organizing, Collective Bargaining, Member Rights & Advocacy, Consulting Skills, Political Action, and Organizational Development. In addition, program participants will have the opportunity to gain practical, real life experience in each of the core competencies and will receive assistance in the development of a portfolio and resume, interview skills, professional image, and communication skills.
PROGRAM DATES & LOCATION
The in-person component of the program will be held at OEA Headquarters in Columbus, Ohio. This portion of the program will take place over six (6) days. The six (6) days will consist of six (6) days and five (5) nights. Participants must commit to attending all six (6) days of the program. Virtual instruction and field shadowing experience will take place upon completion of the in-person component.
For 2023 the following dates have been determined: July 10, 2023 to July 15, 2023.
APPLICATION PROCESS
If you are interested in being considered for the LRC Skills Development Program, please email the Skills Development Program Application and requested materials to: mayfieldd@ohea.org.
All applications and supporting materials must be delivered by March 20, 2023.
*Please note: A limited number of individuals will be selected to participate in the Skills Development Program. The OEA accepts no liability and offers no assurance of selection or future employment with OEA.