The Evolution of Mara Dyer
by Michele Hodkin[/quote]
With this assertion, Hodkin's fictional character proves himself to be a very perceptive young man. Kid bullies often turn into adult bullies, and, like kid bullies, adult bullies focus on gaining power and dominance over others. For some reason, after kid bullies reach adulthood, our society stops calling them what they really are, bullies, and begins referring to them as "people who suffer from a lack of civility in their interactions with others."
A recent poll finds 66% of us believe that "lack of civility" is a major issue in our country and that incivility has worsened during the financial crisis and recession. Whatever the semantics, adults who choose to bully are bad role models for kids. "How in the world can we stop bullying in schools when it is so close to our national character right now?" asks Dr. Gary Namie, a psychologist and cofounder of the Workplace Bullying Institute.
Certainly educators tried to raise awareness during National Bullying Prevention Awareness Month, as we do each October, but bullying continues to be a major problem in our schools. Eighty-three percent of girls and 79 percent of boys report experiencing harassment. According to the Bureau of Justice Statistics, nearly one in three 12‐ to 18‐year‐old students reported being bullied and nearly one in ten reported being cyber-bullied. How can anyone really be surprised when kids are just following the examples set for them by the public figures they see and hear in the media?
Bullying is the norm on many popular reality TV shows. Viewers are bombarded with episodes filled with scenes of name-calling, swearing, and physical violence on a regular basis. "Research shows in the short term our own concepts of aggression are activated in the brain when we watch these shows, and we are primed to behave aggressively," said psychologist Sarah Coyne, a Brigham Young University assistant professor who studies the impact that aggressive behavior in the media has on its viewers. Reality TV, she found, depicts nearly twice the number of aggressive acts as dramas or comedies, yet those shows provide nightly entertainment for many school children and their families.
Our country has also been overcome lately with the scourge of hate groups whose members bully anyone who doesn't agree with them. Hate groups, which exist to promote hostility against people of different races, religions, or sexual orientation, have grown by 67% since 2000. The Southern Poverty Law Center is currently tracking over 1,000 hate groups operating in the United States. This recent proliferation of hate groups has been caused by anger and fear over the economy, a convergence of non-white immigrants into the country, and the reality of a declining white majority. Though their extreme ideas and values are far from the norm, constant media attention makes their views appear more prevalent than they are and helps affirm their existence as an unobjectionable part of our world.
And one need look no further than Washington, D.C. to see some of the worst exemplars for any anti-bullying campaign, many of our elected officials and their political parties. Things are not much better in Ohio. Politicians have become so intent on ridiculing and bullying the opposition during rallies, interviews, political advertisements, etc., that they've neglected to think about how they sound to young people.
[quote]"Thuggery is nothing new in politics; it transcends time, ideology and party," says
Public Affairs Television senior writer Michael Winship
. "But what's even more disturbing is how much of the public is willing to ignore bullying behavior — and even applaud it — as long as the candidate in question hews to their point of view."[/quote]
Bullying is such a problem in the Ohio Legislature that Senator Frank LaRose convened a bi-partisan committee of eleven legislators in September to plan its own anti-bullying campaign. LaRose is working with the National Institute for Civil Discourse and he described the meeting as the first of "an ongoing conversation among colleagues dedicated to improving the civil discourse in our legislature so that we can better serve the citizens of Ohio." LaRose said the group agreed to hold three or four meetings a year to organize civility workshops for newly elected legislators and to encourage social interaction between members of both parties.
It's somewhat ironic that a formal committee needed to be organized to help our revered officeholders learn to treat each other with dignity and respect, but kudos to Frank LaRose and the other ten legislators for understanding the need and initiating this anti-bullying plan for the Ohio Legislature. Word has it that some of their colleagues have already dismissed their efforts, so only time will tell if this committee will have any positive effect on eliminating incivility at the Statehouse.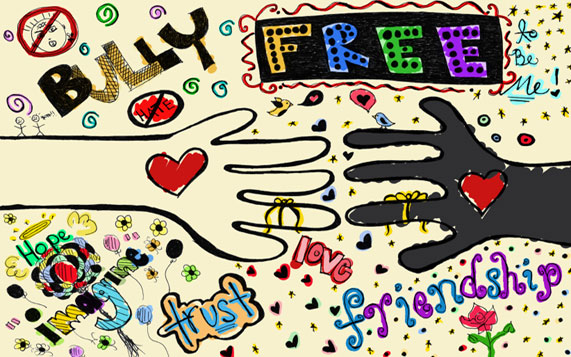 What can we do about these and other bullies who negatively impact our youth? First, be more than a bystander. Speak out against adult bullies. Don't sit by and ignore bullying, because silence condones that sort of behavior. Encourage family and friends to turn off those reality television shows. Teach children about hate groups and why they're wrong. Vote out legislators who use bullying as a tactical maneuver in politics.

In spite of adult bullies who influence the children of America, educators will continue to teach tolerance not just during October's National Bullying Prevention Month, but throughout the year as well. There are a variety of excellent resources to help your anti-bullying efforts. Unfortunately, the government website, http://www.stopbullying.gov/, wasn't available during much of National Bullying Prevention Month …  thanks to those adult bullies in Washington who caused the federal government shutdown.

By Jeanne Melvin, Hilliard Education Association

[quote]"Someone always says, 'Kids are mean. Kids will be kids.' Which implies that the kid bullies will grow out of it someday." The muscles in his jaw tightened. His stare was unfocused and far away. "I don't think they do. I think kid bullies turn into adult bullies." — Jamie, from