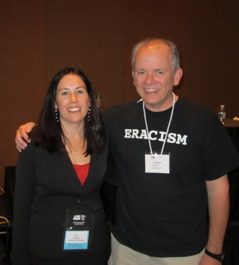 Charles Steinbower
Library Media Specialist
Department of Rehabilitation and Corrections
I never intended to wind up as a Library Media Specialist in a Prison Library, but I've been working within the Ohio Department of Youth Services for three decades now. The juveniles incarcerated there have had limited exposure to the arts and humanities. Most come from economically disadvantaged areas where these programs are infrequent or non-existent. I try to expand their worlds.
Columbus author Mimi Chenfeld was the first artist I introduced to the kids. She conducted writing and creative movement workshops. From there I collaborated with other teachers at Riverview and Scioto to incorporate these artist visits into their curriculum. Over the years, I've had over 200 artists' visits and have been able to fund them through a variety of sources, including some NEA grants.
Many artists, authors, and musicians followed Mimi: The Jazz Arts Group, who told the students about the roots of jazz and popular music; Is Said, who got the students to write their own book of poetry; the Imani dancers, who showed them African dancing; Eric Paton, who educated and entertained students with Japanese Taiko drumming; Jack Gantos , the author of "A Hole in My Life," who spoke of his attempt to smuggle drugs and how he wound up in a New York prison for it and his subsequent rehabilitation eventually becoming a renowned children's author; Jessica Powers, author of "This thing called the Future," who spoke of her time researching the book in South Africa and compared and contrasted pre and post Apartheid South Africa with the Jim Crow South, and an author whom I consider my adopted little little sister, Angela Johnson, who wrote the picture book, "A Sweet Smell of Roses." which talks of the Children's March for Civil Rights and discussed how the fight for Voting Rights and against discrimination continues to go on to this day. I could go on and on.
I've had students tell me they never liked to read before; after being introduced to these authors, artists, and musicians, they enjoyed reading for the first time in their lives.
I'll never forget a student who said to me, "Mr. Steinbower, I wish I had known you five or six years ago. If I had, I wouldn't have wound up in prison."
I hope that I can continue to inspire young people with art and literature, in order to make a difference in the lives of my students and, hopefully, make the world a better place.
Share your story! How do you make a difference in the lives of your students? Go to saveohioschools.org.
Save
Save
Save
Save
Save
Save