Celebrate National Teacher Appreciation Week, May 7-11, 2018 & National Teacher Day, May 8th!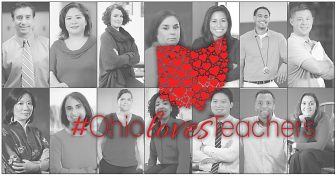 Join us as we celebrate the hard work and important contributions of teachers during National Teacher Appreciation Week, and on National Teacher Day, May 9th. This is a time to thank America's teachers for their commitment to students and for their work to create great public schools for every student, as well as encourage talented and committed individuals to consider the rewarding and intellectually demanding profession of teaching.
You can show your appreciation by sharing one of the following on social media:
A picture of yourself with your favorite teacher, past or present;
A picture of your child with his or her teacher;
A picture of yourself holding a piece of paper with a simple message saying Thank You to a teacher and why you're thanking him or her.
Be sure to use the hashtag #ThankATeacher and #OhioLovesTeachers when sharing.
Or check out our Teacher Appreciation Week board on Pinterest for other ideas on how to personally thank teachers for making a positive impact on your life and the lives of children across the country.
>> Additional  deals and "freebies"