Rally for Reconciliation
August 23, 2021 @ 12:00 pm

-

1:00 pm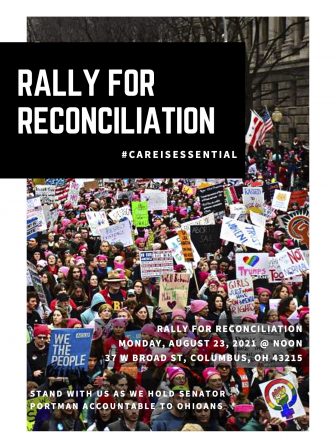 Community Members and Activists to Rally to Hold Portman Accountable
Community members and activists from various organizations are set to gather outside of Senator Rob Portman's office on Monday to show support for the Reconciliation Package currently being considered in Washington DC. This package includes vital spending in the areas of healthcare, paid leave, early childhood education, and tackling the climate crisis.
Date: Monday, August 23, 2021
Time: Noon
Location: Senator Portman's Columbus Office,
37 W Broad St, Columbus, OH 43215
Hosted by:
For Our Future
Innovation Ohio
Ohio Environmental Council
Ohio Education Association
Ohio Federation of Teachers
Paid Leave for the U.S. (PL+US)
SEIU District 1199 WV/KY/OH
As this fight over infrastructure continues to play out in Washington, it is critical that community members hold their elected leaders accountable and let them know what our community needs. Adequate funding for education, paid leave, healthcare, and the environment has been withheld from Ohioans for too long. Senator Portman needs to do what is best for his constituents, not what is going to line his pockets.
Related Events