One of the things I will miss most about the summer is the time I have to simply sit and read a good book. When I have to prioritize how to spend my free time, (or what little I have during the school year) reading will likely take a back burner.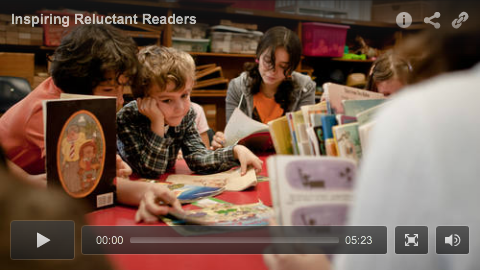 Sadly, reading for pleasure is just not what it used to be. In today's faced-paced world of continual social interaction, reading can't compete. Reading is a quiet hobby one must do alone. It is probably safe to say that the majority of students would rather be using technology or hanging out with friends than sitting down with a good book.
Last year, as part of our professional development, the Language Arts Department at my middle school decided to explore new ways to promote and encourage reading for fun. We began this project in September and spent seven months trying to make reading "cool" in our school. We conducted a 30 question anonymous survey (which students took using a Senteo Response System) about reading. We asked questions about different types of genres, attitudes towards reading, and the amount of time students spent reading. After analyzing the results and researching some ideas, we chose and implemented our strategies. Here is what we found:
Sometimes it is all about finding the right book.
Many students struggle with reading and are, therefore, hesitant to pick up a book. For some students, it can be intimidating and sometimes embarrassing to pick a book that is easy enough to read, but cool enough for others to see them reading. Many times I have heard a student standing in the middle of a sea of books in the library and say, "But I can't find a book!" For some students, they have not spent enough time looking at books and exploring books to know what they enjoy.
"Browse and Pass" – The teacher checks out enough books for the entire class. This should be a variety of books of all genres and levels. Explain what it means to browse through a book: reading the front and back cover and inside flaps, looking at pictures, and skimming a few paragraphs. At this point, the books will be rotated around the room every two minutes. Before students pass their books, they should write the title on an index card if it is a book they are interested in. By the end of the session, students should have 2-3 books (or more) that they can check out at the library. This activity exposes students to new books and teaches skimming and scanning skills, as well as how to evaluate and choose a book.
Provide suggestions! Public libraries and bookstore websites have countless lists of the top books. Print these lists, create a bulletin board, or better yet, highlight books on the morning announcements, or provide a link on the school website so students (and parents) can browse. Isn't it our job to point students in the right direction?
Sometimes it is more about finding the time.
After homework, sports, band, church, Facebook, and sleeping, who has time to read? Not too many teenagers! As teachers, we feel the same way. Sometimes we even feel guilty for sitting down with a book when so many other things need to be done.
D.E.A.R. Day – Once a month we decided to "Drop Everything and Read" for one 50-minute class period. We rotated the schedule so as not to interrupt the same academic class and the entire school simply read for pleasure. Some months the PTG provided small snacks and we also held a Pajama Day during one of the winter months, just to make it more fun. In our end of the year survey, we had the typical complaints about "being forced to read" but most students appreciated, enjoyed, and looked forward to reading without any further assignment or requirements. It goes without saying, that most teachers enjoyed the uninterrupted reading time too!
Sometimes it is important to make reading a group activity.
Students thrive on interaction, so find ways to encourage lively discussions about the books they are reading.
Opposing teams competed and completed reading calendars to log their time reading each month. Much like the reading programs used in the elementary schools, students were rewarded with pizza coupons, snacks, or homework passes. Sometime friendly competition is actually all you need to get students to do what you want! In this case, READ!
As I already mentioned, reading is a solo task. But sharing a good book with friends is part of the fun! As teachers, we pass books around and we talk about the latest best sellers. To promote sharing among students, we created a discussion board and "Middle School Book Chat" on our district website. Students could share what they were reading, answer survey questions posted by the teachers who moderated the site, and were asked to respond to discussion questions about novels we were reading in class. By connecting a favorite pastime (social networking) to reading, students and teachers started having engaging conversations about books!
In the coming school year, we hope to continue many of these strategies and add new ideas, as well. More video announcements and book commercials, more dress-up days, more activity on the discussion board, and of course . . . more reading!!
By Melanie Krause, Dover Education Association