Background
In the Spring of 2020, when all public, community, and private K-12 schools closed to prevent the spread of COVID-19, a record-breaking number of Ohio educators pivoted to a variety of remote learning methods to teach their students.  In response to this unprecedented pivot to remote teaching and learning, at its Spring 2022 Representative Assembly, the OEA adopted a position on Remote Learning, as outlined in the table below: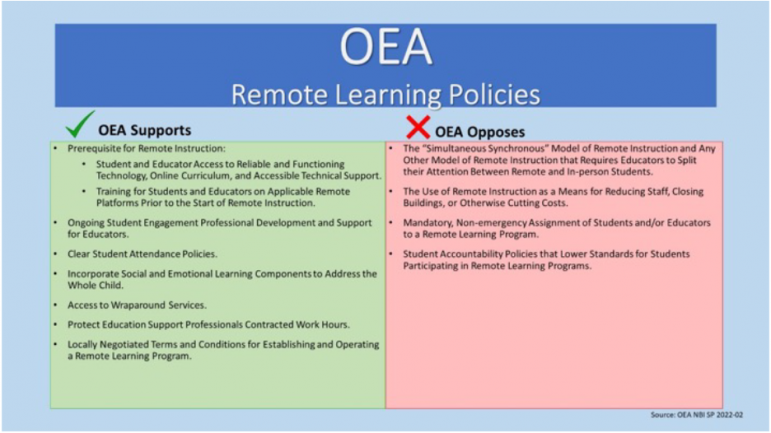 Data collected by the Ohio Department of Education  identified the following top challenges experienced by districts, educators, and students in the Spring of 2020: internet connectivity and technology/device access. During the crisis, student engagement also was a challenge for some educators. Though schools have generally ceased remote learning and returned to in-person instruction, the focus on student engagement remains an important element of student success for both remote and in-person settings.
A decade of studies from The National Center for Urban School Transformation (NCUST)  found key success factors for diverse student populations. These factors are applicable to remote learning. Specifically, the elevation of student achievement when the student perceives that the educator believes that the student is valuable and capable. Reflecting on strategies that create supportive online learning environments, NCUST shares strategies to use for each of the following questions:
How can school personnel demonstrate a commitment to getting to know students better?
How can school personnel model courtesy and respect for each student?
How can school personnel praise and acknowledge students?
How can school personnel transform classroom practices in ways that help students feel valued and capable?
Whether you are providing instruction remotely, or in-person, student engagement is an important pathway to student achievement. Below, we share a variety of curated resources about student engagement and remote learning.
Leading All Students to Feel Valued & Capable Through Online Learning is designed to help educators use online learning strategies to lead students to feel valuable and capable. This is the first webinar session in the Equity, Excellence, and E-learning series sponsored by the National Center for Urban School Transformation (NCUST).
Dr. Pedro Noguera, shares his insights about dimensions of student engagement and the relationship between student engagement and academic achievement.
6 Ways to Create Stellar Student Engagement is an example of how one educator engages students in the virtual or in-person classroom.
REL Mid-Atlantic uses the Supporting Student Engagement in Remote and Hybrid Learning Environments infographic to describe factors and related strategies to support student engagement in remote learning.  These factors are also explained in a short video.
The Center for Innovation in Teaching and Learning at the University of Illinois Urbana-Champaign offers Teaching & Learning Tips to aid in the transition to online learning. Three Dimensions of Student Engagement provides an overview of cognitive engagement, emotional engagement, and behavioral engagement.
What can we add? Use the following link to share your expertise about this topic: Share Your Expertise.