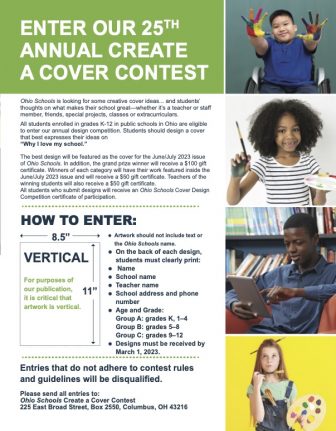 Ohio Schools is looking for some creative cover ideas… and students' thoughts on what makes their school great—whether it's a teacher or staff member, friends, special projects, classes or extracurriculars.
All students enrolled in grades K-12 in public schools in Ohio are eligible to enter our annual design competition. Students should design a cover that best expresses their ideas on "Why I love my school."
The best design will be featured as the cover for the June/July 2023 issue of Ohio Schools. In addition, the grand prize winner will receive a $100 gift certificate. Winners of each category will have their work featured inside the June/July 2023 issue and will receive a $50 gift certificate. Teachers of the winning students will also receive a $50 gift certificate.
All students who submit designs will receive an Ohio Schools Cover Design Competition certificate of participation.
THE CONTEST DEADLINE HAS BEEN EXTENDED TO MARCH 31