By Julie Rine is an English Instructor and an Academic Challenge Advisor at Minerva High School, Minerva, Ohio.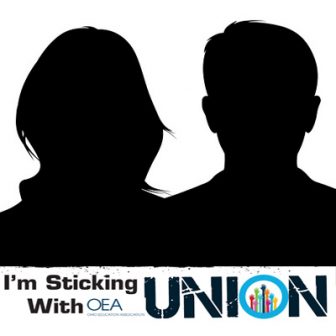 It's easy to feel hopeless and overwhelmed right now, isn't it? The Supreme Court's decision regarding the Janus case, while not unexpected, still stung. The move by the Court has the potential to weaken unions, many sources say, and the decision has even been referred to as a "crippling blow" .
There are certain unfortunate situations in life that we can't control, and it's important to recognize those and let them go rather than devote energy to a state of affairs that cannot be changed.
There are also situations in life that we CAN impact, with our actions, our words, our advocacy, but even in those situations, there are moments when you have to let go, politically, personally, emotionally. You have to take a break, look away, check out, turn off the news and turn on a Friends rerun, lose yourself in a good book, take a few deep breaths and decide to let go and let someone else take up the cause for awhile. Those "let go" moments are critical to maintaining good mental health and restoring energy to jump back into the fray when we are refreshed and ready to go.
But this is not one of those times. This is not a "let go" moment. This is a "Let's Go" moment.
The media would have you believe that the Janus ruling will lead to fewer union members which means a reduction in funds which equals unions cutting jobs and services and benefits. If you believe the news, soon our teacher unions will be so weak and ineffective that teachers will not be able to influence an impressionable kindergartner, let alone legislative policies.
Don't believe the hype.
If anyone is equipped to turn a bad roll of the dice into an opportunity to change the game, it's teachers.
On a daily and weekly basis, we think on our feet, we adapt to a snag in the routine. We reflect on what worked and what didn't and make adjustments in the three minutes between classes, a task that would take Congress three months. We take on whatever challenges exist in our communities and in our classrooms and we overcome them. We don't stop there, either. Most of the time, we not only overcome the challenges we face, challenges which can change from year to year and week to week, (sometimes even minute to minute!), we create new programs, new methods, and new realities that are often more effective for our students than what existed before the obstacle presented itself.
I don't care what your political leanings are, if you are a teacher, you rival only parents in your fierce desire to protect kids and prepare them to succeed in the future.
The union helps us do just that. Through the union, we can fight for what our kids need to succeed, such as smaller class sizes, adequate and up-to-date academic resources, onsite counselors and mental health professionals, and a safe environment in which to learn. The union also helps us fight for what teachers need to help students succeed, such as adequate planning time, meaningful professional development, continued opportunities for further education and training, sufficient time to work as teams to tackle problems rather than as isolated instructors behind our classroom doors, and yes, a fair salary which allows us to focus fully on our students and our own families instead of squeezing in hours away from both while we work a second job to make ends meet. The trickle-down effect here is obvious; when teachers lack support and resources, kids lose the effective education they deserve.
So what can we do?
The decision will not be reversed, and even worse, it appears that a new Justice will be seated who may have equally damaging views of unions and public education.
First, we must remember that Supreme Court Justices are not the only ones allowed to issue opinions. We can write letters to the editor of our local papers, and we can routinely call or write our elected officials to make our voices heard and our opinions known.
Secondly, we can actively recruit members, especially young teachers, to not only join the union, but to become active in the union. Retaining or gaining members will of course help the union financially, since our dues dollars provide us with the resources and training necessary to be effective advocates for our students. But we don't just need the dues money. We need active and energetic members, more than ever before. Money talks, but members act.
Thirdly, we can help register new voters. If we want a future in which citizens are active participants in the democratic process (whether they are on "our side" or not), then we must emphasize the importance and value of our right to vote, and then take the practical step to register young voters. It is a simple process. There is no reason why every 18-year-old student who graduates from an American high school should not be registered to vote.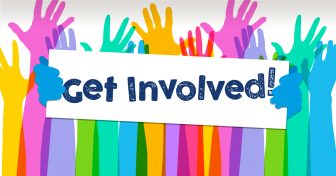 We can't force them to register, however, so the goal should be to get them excited to register.
By teaching our students how to read a variety of sources on any given topic and then to form their own opinion, we help them become critical thinkers. Critical thinkers are often eager to make their positions known, and the most powerful way to do that is to exercise the right to vote. Few moments of my teaching career have been as special to me as when I registered a student to vote and she literally high-fived me and yelled, "I can vote, I can vote!" This is the enthusiasm we must seek to engender in our classrooms.
Perhaps most importantly, we can get involved in local and OEA efforts to elect pro-public education and pro-union candidates. We can work phone banks, canvass door-to-door, talk to our colleagues and friends about why we support certain candidates. We must follow that up by voting for candidates who support us as public school teachers and as union members, up and down the ballot, in local elections, in primaries, in midterms and in presidential elections. These actions are particularly important in Ohio this year, as we will be voting for a senator and a governor.
Political defeats can be discouraging, but nothing feels worse than knowing you could have done more to ensure victory when instead you chose to sit on the sidelines. We must take our frustration and allow it to motivate us to take action.
Sure, the Supreme Court decision is a setback, a challenge to be overcome. But a "blow" to unions? I don't think so. In fact, I think they might have just poked the beast. Joan Baez said "Action is the only antidote to despair." So don't despair. Don't make this a "let go" moment. This is a "LET'S GO!" moment and I have no doubt that we will persevere and succeed. The teachers' unions are strong because teachers are strong, and we are stronger when we stand together, as friends, as colleagues, and as proud union members.

— Julie Rine is an English Instructor and an Academic Challenge Advisor at Minerva High School, Minerva, Ohio.