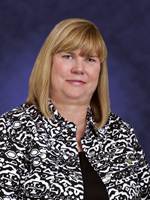 Teaching children is pretty wonderful.
This has been my passion and in the 19 years that I taught, I learned from and have been inspired by my colleagues. I have also been moved by the actions of fellow union members who fought for better wages and safe working conditions.
The energy we are seeing with teachers standing up in the neighboring states of West Virginia and Kentucky and elsewhere as the #RedForEd movement spreads across the country is unparalleled in recent history. Public opinion is with us. A recent poll found that 62% of Americans believe the country is better off with stronger unions.
Yet, while this happening, amid the highest level of support for unions in 15 years, the US Supreme Court in a narrow 5-4, politically-motivated decision ruled that unions – specifically public employee unions — should be weaker. The Supreme Court ruled in the case of Janus v. AFSCME, Council 31 to further tilt the playing field in favor of the wealthy and corporate interests.
The court overturned 40 years of precedent in deciding that requiring so-called fair-share fees to be paid by people who choose not to join a public-sector union but who enjoy the benefits of union representation somehow violates the First Amendment of the Constitution. This doesn't make sense, and it's not right.
| | |
| --- | --- |
| "I believe deeply in the power of our collective voice to make sure that every teacher and student has the resources they need to be successful." | |
It also doesn't make sense that so many people are finding it difficult to get by and provide for their families, no matter how hard they work.  It doesn't make sense that people are more productive than ever, but they're working longer hours for less money and fewer benefits. And it doesn't make sense that all this is going on while a handful of very wealthy people have seen their salaries and holdings skyrocket. It is shameful that the wealthy special interests behind the Janus case have succeeded in manipulating the highest court in the land to do their bidding.
I believe deeply in the power of our collective voice to make sure that every teacher and student has the resources they need to be successful. When unions negotiate for working conditions in the classroom, they also negotiate for the conditions in which our children learn. When our unions advocate for us as educators, they also advocate for the students we serve.
Public service workers-teachers, social workers, firefighters, and nurses are more determined than ever to stick together in their unions. Unions remain the most effective vehicle for the power in numbers needed for working people to secure their rights and freedoms, and they provide a pathway to the middle class.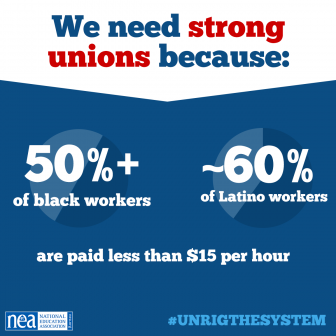 The truth is, when unions are strong, the entire community benefits. Unions use their collective voice to advocate for policies that help all working people — like increases to the minimum wage, affordable health care and great public schools.
Unions help close the pay gap for women and communities of color who have been systematically disadvantaged due to discrimination and prejudice.
African-American women in unions earn an average of $21.90 per hour, while non-union women earn $17.04. When Latinos are members of a union, their median weekly income increases by more than 38 percent.
The wealthy special interests that have benefited from an unfair, unbalanced playing field are now intent on tilting that playing field even more by attacking public-sector unions.
It's driven by ideological extremists who oppose our basic right to organize. And it's an attack on more than the men and women who are teachers and custodians and first responders; it's an attack on anyone who wants to use their voice to fight for something better for their communities.
I have dedicated my life both to helping students and fighting for my community and I won't back down.
My fellow educators and I are going to continue to speak out and I ask those who feel the same, please join us. Because no great social change — from ending slavery to securing the right to vote for every citizen, to winning the freedom to organize — has been achieved by standing alone.

Becky Higgins
President
Ohio Education Association