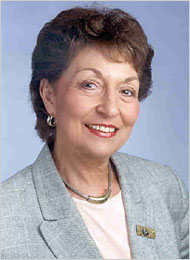 Judith Krug


2011 © American Library Association
Another school year has begun and before you know it will be time to celebrate Banned Books Week (BBW), Sept 24-Oct 1. BBW was started in 1982 by American librarian and anti-censorship activist, the late Judith Krug, in response to the number of books that were being challenged in libraries and bookstores all over the country. It's easy to be a censor. Some parents simply refuse to return books they deem offensive and happily pay a lost book fine instead. I call them the "silent censors." Indykids, a weekly progressive newsletter for kids, is often refused shelf space in public libraries because it has been accused of being one-sided. Censorship is alive and well in America.
Some of the greatest works of American literature have been the most challenged books, such as The Adventures of Huckleberry Finn, To Kill a Mockingbird, or Fahrenheit 451— ironically, a book about how reading has been outlawed in the future.

A meaningful way to celebrate the First Amendment and intellectual freedom is to attend a local event during Banned Books Week. There are several events in Ohio such as the Word Warriors: Banned Brilliance of African American Authors on Tuesday, September 27, from 6:30 p.m. – 7:30 p.m., at the Columbus Urban League, 788 Mt. Vernon Ave. And anyone can participate in the first time ever virtual book reading event, which will be staged on the Banned Books Week Virtual Read-Out YouTube channel by the American Library Association. Two and three minute videos of people reading banned books and telling their stories will be posted for viewing.
Of course, the best way to celebrate BBW is by reading those authors who have been consistently accused of writing books that describe sexual situations, promote occult religions, excessive violence and homosexuality, or encourage racism, the use of four letter words, and the taking of the name of 'G_d' in vain. Or lacking any of these supposed characteristics, there's always one of my favorite reasons for censorship, "being inappropriate for age of audience." Who decides what age is more ready for a concept than another age?
You could read books by Ellen Hopkins, author of Crank, Glass, and Fallout. Hopkins was recently uninvited to the Humble, Texas, Teen Lit Fest after a handful of parents were encouraged, by a librarian no less, into complaining to Superintendent Guy Sconzo. The librarian said Hopkins' books talked about taboo subjects — drugs, addiction and suicide — and that this was too offensive for their innocent teenagers. Hopkins had participated in two previous Teen Lit festivals without incident, but I guess that was not considered relevant.
Read John Green's Looking for Alaska or Will Grayson, Will Grayson, (see wickedawesomebooks.com), Suzanne Collins' The Hunger Games, or Stephanie Meyers' Twilight series. These books have been read by millions of teenagers around the world in a time when kids would rather be watching TV, playing video games, playing sports or complain that they simply don't have time to read. I believe that kids want to read! They want books that will inspire them, entertain them, relate to their lives, and describe what they are feeling in any format that they can get. School libraries, public libraries and parents just need to allow their children to read them — and providing some quiet time and space to do so wouldn't hurt either.
By Susan Ridgeway, Wooster Education Association