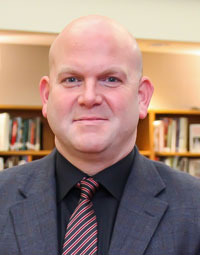 The OEA Board of Directors has endorsed Andrew Smith for election to the State Teachers Retirement System (STRS) Board representing active teachers.
Andrew Smith is a school social worker in the Sheffield-Sheffield Lake City Schools in Lorain County. Andrew is dedicated to his students and a fierce advocate for Ohio's educators. He is seeking this position because he knows the importance of a reliable pension for Ohio's current and future public education employees.
In order to qualify for the ballot, he will need signatures from members from around the state. We are asking local leaders to help in securing signatures for this effort. Active employees who contribute to STRS are eligible to sign nomination petitions. Signatures do not have to be separated by county–multiple counties can appear on the same petition. Click here to download a nomination petition.
Only original signatures are valid. Petitions with signatures must be mailed in or hand-delivered rather than scanned/emailed. Please return any collected signatures to:
Ohio Education Association
Attn: Government Relations
225 E. Broad Street, BOX 2550
Columbus, OH 43216
Please return petitions to OEA Headquarters as soon as possible. If you have any questions, contact Robert Davis in OEA Government Relations at 614-227-3069 or davisr@ohea.org.