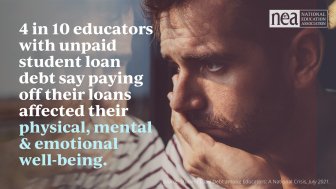 From pre-K to Ph.D., our right to learn, grow, and thrive should be based on how big we dream and how hard we work. But the astronomical cost of higher education—even public higher education—forces many students to either forego their education or be trapped in a lifetime of debt. No matter who we are or how big our bank accounts, we should be able to learn without limits.
From national advocacy to individual support, NEA is working to ensure that education is affordable and accessible to all. On July 27, NEA released a report analyzing the state of educator student loan debt and the ways we can work together to make a more just system for all.
About the Report
The July 2021 "Student Loan Debt Among Educators: A National Crisis" report presents the results of a 2020 NEA survey of educators working in pre-K–12 and higher education institutions regarding student loan debt. In line with research on student loan debt within the general population, we find that student loans play a significant role in the financial lives of many educators and have disproportionate impacts on specific subgroups.
Key Findings:
The Educator Student Loan Debt Crisis Over half of educators who have taken out a student loan to fund their own education still have a balance, with an average current debt amount of $58,700 within this group. Fourteen percent of educators with unpaid student debt have a current balance of $105,000 or higher.
Student Loan Debt among Young Educators More than 25% of educators ages 18–35 with unpaid student loan debt report that their loans affected their ability to buy a home, return to school, and start a family.
Student Loan Debt among Older Educators Two-thirds of educators ages 61 and over with unpaid student loan debt report that paying down their debt has affected their ability to save for retirement. Twenty-eight percent of educators over the age of 61 who took out student loans still have not fully paid off their loans, with 35% still having more than $45K in debt.
Student Loan Debt among Educators of Color Black educators take out more loans, often at less favorable rates, and end up earning less than their white peers, causing many to leave or avoid the profession altogether. NEA's study found that Black educators took on significantly more debt than other racial/ethnic groups, with an average initial total of $68,300 among those who took out loans, compared to $54,300 for White educators and $56,400 for Latin(o/a/x), Hispanic, and Chican(o/a/x) educators.
Impacts of Student Loan Debt on Educators' Well-Being Four in 10 educators with unpaid student loan debt said that paying off their student loans impacted their mental, emotional, and/or physical well-being.
Calls To Action: 
National Letter Campaign to Secretary Cardona: Urge Secretary of Education Miguel Cardona to take immediate action to cancel both the student loan debt of public service workers with at least 10 years of service, and $50,000 in student debt for all other federal loans. Click here to Send Secretary Cardona a letter
School District Reimbursement Advocacy: Employers are allowed to contribute up to $5,250 per year for an employee's educational expenses, and the payments will not be considered taxable income for the employee. Ask your school district to use emergency federal funding to cover employees' student loan payments. Model contract language can be found here
Individual Student Debt Support: NEA Member Benefits has partnered with Savi, a student loan start-up that offers an online tool, free for one year for NEA members, that makes sure you're on the best repayment plan and that you're on track for forgiveness. Student loan experts are available via phone or chat, and Savi's e-filing function helps eliminate common mistakes that bar many applicants from receiving forgiveness. Register here